Ultraviolet Germicidal Irradiation is a Proven Method for Effectively Inactivating Mold, Bacteria, and Viruses
The C Wavelength of the UV Spectrum targets the DNA of Microorganisms,
destroying their cells and making replication impossible.
Germicidal UVC Solutions
Ultraviolet germicidal irradiation (UVGI) is a disinfection method that uses short-wavelength ultraviolet light (UVC) to kill or inactivate microorganisms. UVC improves indoor air quality (IAQ) while increasing operational efficiency, reducing maintenance costs and saving energy.
UVC light installations for HVAC systems can be applied in two ways: in-duct airstream disinfection and air handler component surface disinfection.
Airstream and Coil Disinfection
High-output UVC lamps are designed to deliver UV doses for airstream disinfection. In-duct airstream applications require minimal space and are easy to install in both existing and new equipment. These systems disinfect air as it passes through the HVAC system and reduce airborne infectious microorganisms that spread illness.
UVC for coil disinfection utilizes coil-mounted fixtures that target the coils and drain pans of the HVAC system.
UVC lamps target cooling coils, condensation pans, and filters. This allows for healthy air supply by destroying bacteria and mold that grow on the moist surfaces in tough-to-reach areas such as grooves, fins, seams, and edges.
Based on your current equipment and space usage, Donnelly Mechanical will determine the best UVC application for your system.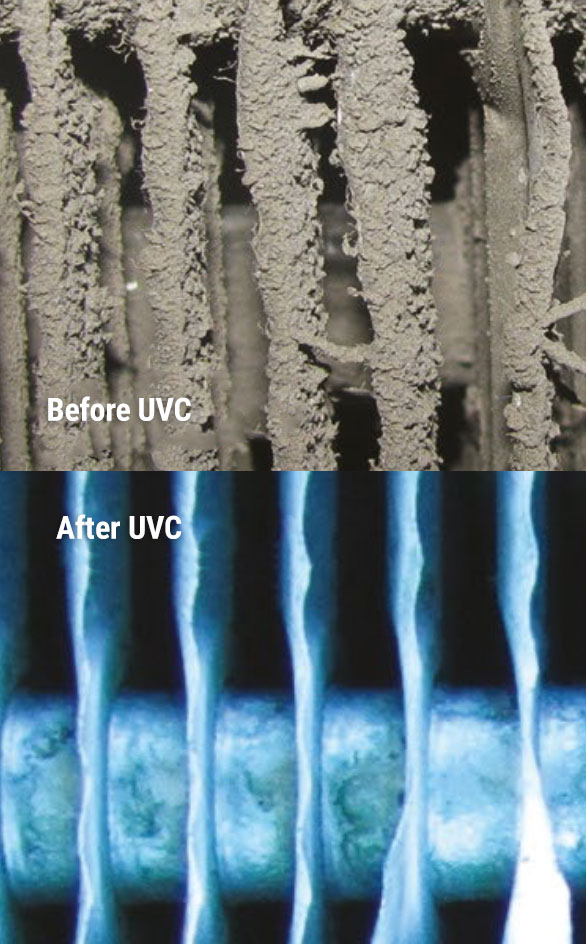 Proven Technology, Backed By Science
Energy Savings and Cost Effective
Improves Indoor Air Quality
Safe and Healthy
Measurable and Proven Results
I wish to thank Donnelly Mechanical for the installation of our brand-new air conditioning equipment. Throughout the entire six-month process, their Project Manager was always available to us. He was responsive to every concern and took special care knowing the hall is a national landmark. When an issue would surface, he was there to work through it with us. We highly recommend Donnelly for their quality service and their team.
— THE TOWN HALL FOUNDATION
EXECUTIVE DIRECTOR