HVAC Preventive Maintenance Service in New York City Customized to Your Needs
Commercial HVAC Maintenance with a Facilities Management Focus
Donnelly Mechanical provides custom HVAC preventive maintenance service for a distinguished clientele within many of New York City's prestigious buildings and institutions.
Our goal is to ensure efficient and continued operations of all your HVAC systems, including server room air conditioners, for the ongoing comfort for your tenants and uninterrupted operation of mission critical systems. Our hands-on approach allows us to be easily accessible when you need us most and ensures your peace of mind. Ongoing Preventive HVAC Maintenance is key to saving you money.
How Donnelly Mechanical Benefits You:
Transition Team
We understand the difficulty of changing maintenance vendors. During this process, our team familiarizes themselves with your facility's entire HVAC system. This ensures consistent, cost-effective service at every point of contact thereafter while integrating your site into our Service Division.
Dedicated Maintenance Staff
Security is an important facilities concern. Donnelly provides you with a dedicated team of technicians who will develop an intimate understanding of your system and provide you with the personalized technical support and information you require.
Quality Control
We conduct inspections to enhance and improve our valued clients comfort experience. In addition to our regular maintenance inspections, we review sites annually from a different viewpoint to ensure that we are providing the best possible service both today and tomorrow.
Executive Involvement
Whenever you need an immediate resolution to a problem, the Donnelly executive team is available to help you.
Donnelly Client Portal Makes Service Requests Easy As 1, 2, 3
No more service request emails or phone calls required.
To expedite the service scheduling process, Donnelly clients are now able to make and review service requests simply by logging on to their Donnelly Client Portal from their desktop or mobile device!
As Simple As 1, 2, 3
A convenient, central place to manage their maintenance needs and records, the Donnelly Client Portal maintains a comprehensive record of all maintenance services.
Always focused on providing our distinguished clientele with best-in-class service, the easy-to-use Donnelly Client Portal is one more benefit of choosing Donnelly Mechanical as your Preventive HVAC Maintenance service provider.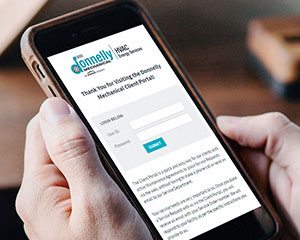 Are you an existing Maintenance Client?
Accounts are typically activated within two business days and login credentials are emailed directly to you.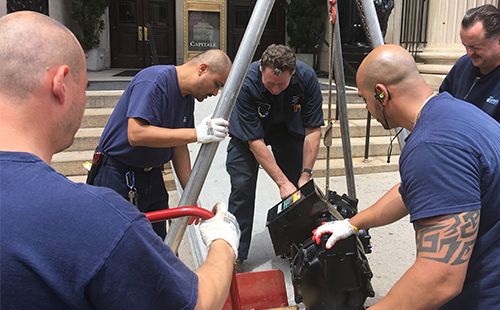 Every year we bring Donnelly in to do a full diagnostic survey of all the equipment and then we make adjustments. Since the relationship started in 2002, we have not had a machine down.
–Building Manager, 17 State Street, Manhattan
Need more information? Call Donnelly Mechanical at (718) 886-1500 today.
Fast response and a worry-free resolution – that's The Donnelly Difference.