Improve Your Bottom Line and Exceed Your Sustainability Goals While Offsetting Capital Investment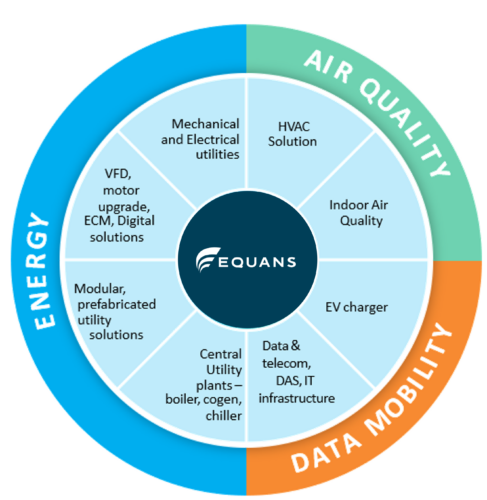 With more than 30 years of experience, we are now backed by the resources of EQUANS global business line, enabling us to offer a broader level of financing opportunities.
We offer an integrated solution combining Donnelly's technical, financial, and operating expertise to respond to the needs of facility improvements without draining your capital budgets.
This solution allows our customers to invest in high-efficiency mechanical and electrical upgrades without major upfront costs. Affording companies a path to immediate cost savings through energy efficiency, as well as decreased downtime with more reliable equipment.
What We Do

An Adaptable Contract Term of 36 to 84 Months

No Initial Capital Expenditure Required

Deferral of Payment for up to 24 Months

No Lien Will Be Placed on New Equipment
What You Get
Avoided Capital Outlay: Donnelly takes on up to 100% CAPEX
Adaptable contract term of 36 to 84 Months with competitive APRs
Cost Savings from Day One
Technical Expertise
Reliability with high-quality systems
Increased systems efficiency
Improved occupants' comfort and experience
Continuous improvement plan
Progress towards your sustainability goals
I wish to thank Donnelly Mechanical for the installation of our brand-new air conditioning equipment. Throughout the entire six-month process, their Project Manager was always available to us. He was responsive to every concern and took special care knowing the hall is a national landmark. When an issue would surface, he was there to work through it with us. We highly recommend Donnelly for their quality service and their team.
— THE TOWN HALL FOUNDATION
EXECUTIVE DIRECTOR