When crisp fall temperatures arrive, it's time for HVAC winter preventative maintenance. Commercial HVAC systems need maintenance regularly to ensure peak performance. It is especially important to schedule a maintenance inspection before the start of winter to prepare your HVAC system for the cold weather.
The Benefits of Winter Preventative Maintenance Include:
Regular inspections and maintenance ensure your commercial HVAC continues to run smoothly all winter. So, if you haven't already scheduled the winter prep session for your facility, call now.
How Do You Prepare an HVAC for Winter?
Booking an appointment to winterize commercial HVAC is essential to maintain an efficient system for your facility. Doing it sooner rather than later ensures that a sudden cold snap doesn't cause a service disruption.
What's Involved in Winter Preventative Maintenance?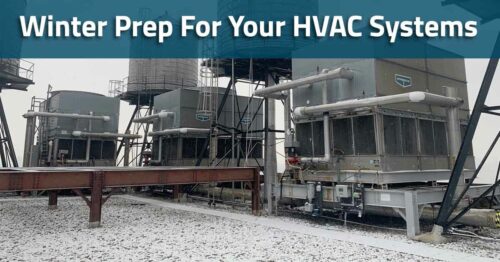 A complete inspection, including

Checking for cracks
Inspecting hoses and blowers for blockages
Airflow monitoring
Checking for signs of excessive moisture
Examining exterior and exposed pipes for winter freezing vulnera­bilities
Checking and replacing fuses, if necessary
Inspecting and replacing belts as needed
Checking that flames are burning clean
Inspecting the ventilation flues
Checking refrigerant levels and leaks
Inspecting wiring
Make sure fans run at the proper temperatures
Inspecting and testing humidifiers

Clean air vents
Calibrate thermostat
Replace or clean air filters, according to the type
Confirm the correct operation of safety settings
Conduct efficiency and performance tests
Clean condenser tray
Calibrate pressure gauges
Tighten or fix loose connections
Clean evaporator coils
Lubricate the motor and blower bearings
Measure gas pressure and much more
That's just a short list of what happens during an appointment to winterize commercial HVAC systems. Since about half of the energy used in a building is devoted to heating and cooling, an efficiently run system saves you money, as well as downtime from system failures.
Get Your Quote For A Commercial HVAC Inspection From Donnelly Mechanical
Winter weather can bring unpleasant surprises. Regular HVAC maintenance and inspections can keep your system running more smoothly, efficiently, and help prevent costly closures to your commercial workspace coupled with expensive repair bills to get you up and running again. Call now for fall system prep to ensure your facility is warm this winter no matter the outside weather.
The professionals at Donnelly Mechanical are here to work for you. With more than 30 years of experience, it's no wonder that NYC's leading team of experts in commercial HVAC systems are found here. Reach out to us to inquire about a quote for your commercial space today!