Indoor Air Quality Solutions & Testing for Commercial HVAC
Large Building Indoor Air Quality Solutions From Donnelly Mechanical
Indoor air quality solutions is a growing need among building owners and managers because of the effects of poor air quality on the health and comfort of building occupants. Our team at Donnelly Mechanical can provide you with the expert technical support you need to effectively manage the complexities of IAQ solutions. Recent studies conclude that proper space temperature and humidity conditions coupled with great indoor air quality reduces illness, sick days, and increase employee productivity and happiness in the workplace. Indoor air quality solutions, improvement, and maintenance is therefore not only good for your tenants, but good for business too.
Indoor Air Quality Solutions, Remediation, & Commercial HVAC Services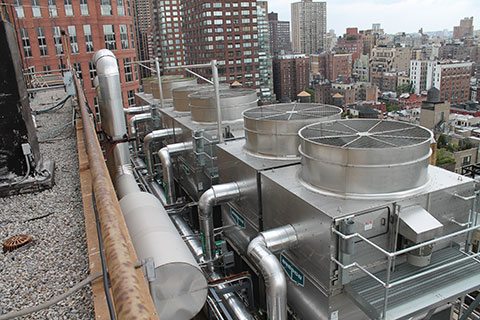 Donnelly Mechanical is New York City's premier provider of large building indoor air quality solutions and remediation, including comprehensive commercial HVAC system analysis, HVAC maintenance, and HVAC modification. Donnelly gives you the expert technical support you need to effectively manage the complexities of indoor air quality within your commercial building(s).
Indoor Air Quality Service For Commercial Properties
Donnelly's industry-leading team of indoor air quality professionals can perform an intensive analysis of your HVAC system to manage, improve or modify your ventilation and indoor air quality. New York City's only fully-integrated indoor air quality testing solutions and resources.
NYC Air Quality Solutions For
Our Indoor Air Quality Solutions Include:
Germicidal UVC Solutions
Ultraviolet Germicidal Irradiation is a Proven Method to Effectively Inactivate Mold, Bacteria and Viruses. Learn more here.
Air & Surface Sterilization
Eliminate Harmful Contaminants with Photocatalytic Oxidation. Learn how Air & Surface Sterilization works today!
Indoor Air Quality Monitoring
Knowing the quality of your indoor air is a key ingredient to providing assurance for the safety of your tenants and employees. Learn more about Continuous Indoor Air Monitoring here.
Indoor Air Quality Testing/Assessment in Manhattan
Our licensed CIEC professional conducts assessments to identify and review indoor air quality concerns. This can be performed as an annual audit, on an as-needed basis, or as part of a custom preventive maintenance program.
Commercial HVAC Air Duct Cleaning
Donnelly uses only Licensed Air Cleaning Specialists to supervise specialized cleaning of ductwork and coils, as well as remediation of mold, odors and other indoor air quality issues.
Customized Solutions For Your Commercial Building
Donnelly offers customized indoor air quality solutions, which can include Enhanced Filtration, Carbon Dioxide Control / Delivery Systems, Ultraviolet Solutions, Bi-Polar Ionization Systems, and Enhanced Ventilation Strategies.