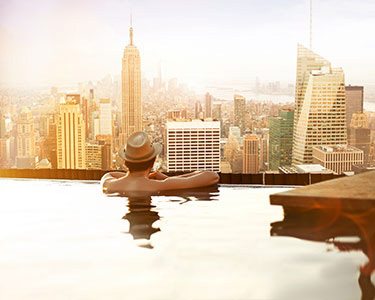 New York City is in the midst of one of its biggest booms in recent history: A hotel boom.
Although many construction projects took a pounding in the Great Recession, hotel development has consistently been a bright spot.
Since that year, the city has added 18,000 rooms.
Now that the economy is recovering and other construction projects are launching, growth in hotel construction shows no sign of slowing. 36,000 more rooms are slated to be built in the coming years.
"The Largest Hotel Boom in History" is Great News for NYC
As with any big shift in the construction scene, it's important to look closely at which areas are flourishing. In this case, the Financial District and the Lower East Side have been winners. However, development is also occurring sporadically elsewhere.
As the biggest winner, Lower Manhattan boasts all of the following:
6,300 new rooms;
28% growth since 2010;
10,700 more rooms planned;
5,600 rooms now in construction;
A total of 26 new hotels.
Although there's been positive signs for more than five years, it could be said things started in earnest back in late 2014. At that time, the InterContinental Hotel Group introduced thetallest Holiday Inn on Earth in the Financial District – it offers 50 stories with 492 lavish rooms.
Three other hotels rapidly followed in the area, with many more to come soon.
Underrated Areas Now Capturing Their Due from Hospitality
Every one of the five boroughs has its own special flavor. Plus, in each and every neighborhood, no matter how big or small, you can find something unique.
New hotel construction is not only good for the hospitality industry, but also helps drive revenue for many different types of businesses. The latest hotel boom has provided a wide range of new accommodation options in Lower Manhattan, helping it catch up to other areas of the city.
Hotel Indigo, on 171 Ludlow Street on the Lower East Side, is one example of a property that's trulyembracing its location. Through partnerships with local businesses and artists, it shows that new hospitality construction never needs to be generic or disruptive to the community. That makes it easier for everyone to embrace the change – and benefit from it.
Naturally, these businesses will all be held to New York City's high energy efficiency standards. By incorporating efficient HVAC systems, they stand to save millions of dollars over time. To find out how you can do the same, contact Donnelly Mechanical.