Having a working and well-maintained commercial HVAC system is a must for any building or facility. Keeping a consistent temperature in a workspace does more than just help the occupants' comfort, it improves productivity and keeps your servers working smoothly.
Staying on top of your commercial HVAC system's maintenance is vital so it can be repaired or replaced on your terms. Putting off this important and necessary work could unexpectedly cost you time and money during a crucial period. But how would you know when you should repair or replace your commercial HVAC unit?
What Is the Life Expectancy of a Commercial HVAC Unit?
The lifespan of an HVAC unit can vary, but it is usually around 10 to 15 years. When it comes to units like heat pumps or air conditioners, you'll be looking at closer to 10 years while a furnace or boiler might last 15 years before it needs replacement. The amount of usage could affect life expectancy as well.
While those are the average life expectancies, you may still want to replace your HVAC units sooner. If you find your energy bills are on the rise, it could be because your HVAC units are not operating as efficiently as you need them to be. Replacing units that are increasing your bills will likely save you money long term as you'll eventually need to replace the unit in question anyway.
How Does an HVAC Warranty Work and Do They Cover Labor?
Commercial HVAC warranties are divided into parts and labor. The contractor installing your commercial HVAC unit could be the one providing you with your warranty or extended warranty on both parts and labor. If your building has a HVAC unit that was installed prior to you managing it, they may have had a warranty so make sure you have that information.
Failing to properly maintain your HVAC system could also invalidate the manufacturer's warranty. Premature parts or equipment failure due to lack of maintenance can void the warranty and its  replacement of parts.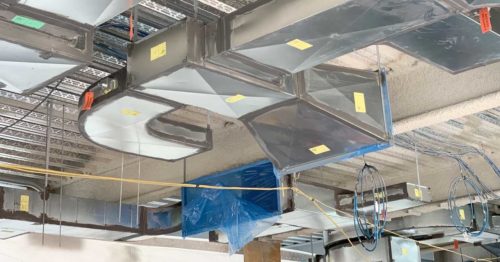 Are HVAC Warranties Transferable?
It is possible to transfer an HVAC warranty, but it isn't automatic. If you become the new owner and operator of a commercial facility that recently had an HVAC system installed, you'll need to make sure that all of the corresponding paperwork for the warranty is transferred into your name as soon as possible to help your chances of having the warranty transferred successfully.
What Voids an HVAC Warranty?
One of the most prevalent causes in having an HVAC warranty voided is having your HVAC unit installed or serviced by an unlicensed contractor. You or someone managing your building may feel that performing repairs in-house is a money-saving decision. However, if you end up voiding your warranty, it could cost you significantly more money in the future. Additionally, having repairs, no matter how minor, performed in-house without a licensed contractor risks damaging the HVAC unit.
Contact Donnelly Mechanical for Your HVAC Repair and Replacement Needs
At Donnelly Mechanical, we have an experienced team of certified contractors and technicians that are highly experienced in installing, maintaining, and repairing commercial HVAC units, 24/7, 365 days a year. We even provide rigorous maintenance transition plans to make it easy to switch to Donnelly Mechanical if you aren't satisfied with your current commercial HVAC contractors. Better service and peace of mind are a call or email away. Contact us today to get started on a plan that works for you.