Commercial HVAC construction projects are an expensive commitment. They're oftentimes complicated to manage as they can involve several different contractors across different HVAC and energy systems.
Building Information Modeling (BIM) systems are of great use for HVAC and energy construction projects for a number of reasons. To understand why it's important to first understand what they do.
What is a Building Information Modeling for HVAC Construction?
BIM software is a place where all construction ideas, design documents, functional characteristics, and operational details are stored. Essentially, BIM software allows contractors to create a highly accurate virtual model of your existing systems, as well as create models of proposed new systems.
These 3D building models prove to be highly useful to any company involved in HVAC construction projects. BIM software supports pre- and mid-construction processes in numerous ways.
3 Major Benefits of Building Information Modeling for HVAC Construction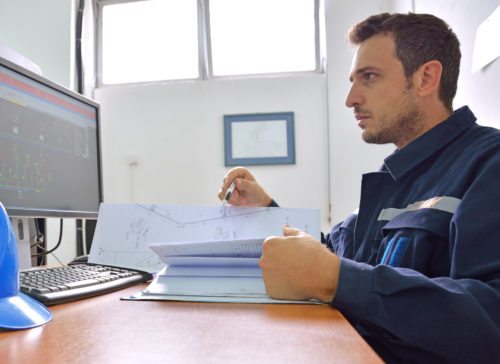 BIM software helps mainly with the management and day-to-day operations of HVAC construction projects, which results in several benefits for customers.
Facilitates Single-Source Projects
For building owners and managers, HVAC and energy construction projects can be a real nightmare – juggling contractors, giving directions, and managing resources and costs. BIM software enables intense coordination in the field, between HVAC and energy contractors, and between contractors and building owners. With this superior level of coordination, one company can more easily be trusted to manage the entire process – making things much easier for building owners and managers.
Improved Construction Productivity
When there's one accurate point of reference for construction, cross-referencing and approval times are drastically cut. This directly contributes to higher productivity through decreased project times and costs. For large HVAC and energy construction projects, this productivity gain can add up quickly.
Reduced Rework
Updates can be made instantly and universally in BIM software, leading to fewer mistakes due to poor communication. Since BIM software facilitates better communication and serves as a single point of reference, both of which lead directly to fewer mistakes and less rework, it further adds to productivity gains and reduced costs for HVAC and energy construction projects.
BIM software adds value to HVAC and energy construction projects in a number of ways – primarily through improved project management and communication, which can directly lead to time and cost savings. Building owners and managers that hire companies to leverage BIM software will find their projects are completed quicker, more productively and with easier management on their part.
To learn more about how BIM software helps project management, continue reading about Donnelly Mechanical's BIM for HVAC and energy construction projects.