Single Source Responsibility That Keeps You On-Time & On-Budget
Donnelly Mechanical is New York City's Premier Commercial Mechanical Contractor Specializing in a Design Build Approach for Tenant Fit-Out and Infrastructure Projects
We understand that managing your costs and timetable is critical to the success of your project, so our team of dedicated professionals brings innovation and practical intelligence to every design build project. Donnelly delivers single source responsibility that achieves the highest level of customer satisfaction.
With Our In-House Team of Dedicated Project Managers and Engineers, Donnelly Provides You with More Than 30 Years of Commercial Mechanical Contractor Excellence
Our state-of-the-art computer estimating system uses historical cost data compiled from similar projects to ensure we provide you with accurate and real-time costs through conceptual, pre-construction and final stages of design. Our turn-key solutions essentially manage all trades and processes for you—effectively shortening the construction schedule through advanced planning, equipment purchases, enhanced coordination and clash detection between design and commercial mechanical contractor teams, and expedited piping and ductwork fabrication.
How Donnelly Mechanical Design Build Benefits You
SINGLE POINT OF ACCOUNTABILITY
Detects and eliminates potential disputes between design professional and commercial mechanical contractor.
MAXIMIZE ENERGY EFFICIENCY, SUSTAINABILITY, COST VALIDATION
Our Engineering team will work with you to identify your objectives, manage contractual details, and evaluate options to maximize results.
SIMPLIFIED COMMUNICATION
Simplified lines of communication allows for better engineering, faster project delivery, and a more reliable mechanical system.
PROJECT UNIFICATION
As a unified system, projects benefit from early starts on construction as well as early procurement of critical materials, and equipment.
CONSTRUCTION COSTS LOCKED
Mechanical design build processes lock in construction costs by eliminating change orders that can permeate the plan and spec construction delivery method.
REDUCE COSTS & SAVE MONEY
Average 10-15% cost reductions over traditional plan and spec construction delivery method.*
SAVE TIME
Project delivery in 33% less time than plan and spec construction delivery method.*
HIGHER SATISFACTION
Customers have a minimum 10% higher owner satisfaction measured one year after project completion.*
*Data Source: Mechanical Contractors Association of America
3D BIM Service for HVAC
Building Information Modeling (BIM) allows us to generate 3D digital representations of the physical and functional characteristics of your facility, including pre-construction and design field surveys. During pre-construction, BIM is particularly important for clash detection, allowing us to expose and fix conflicts before the installation project is underway so your project stays on schedule. Throughout the project, BIM allows for intense field coordination.
With more than 50 years of combined experience, our in-house team of BIM professionals provides high quality 3D modeling and design services, including support to HVAC management and MEP designers, engineers, and contractors.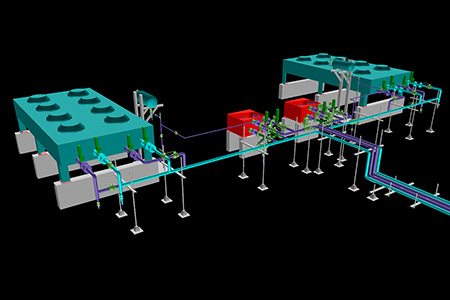 It's not often that at a big company like this you get to speak with the owner one-on-one. That's something that is very good to have. Dino will be more than happy to come down, shake your hand, have a cup of coffee with you. And that's great.
Need More Information?
Call Donnelly Mechanical at (718) 886-1500 today.
Donnelly's Technical Expertise and Good Business Sense Saves You Time, Money, and Headaches Throughout the HVAC Construction Process