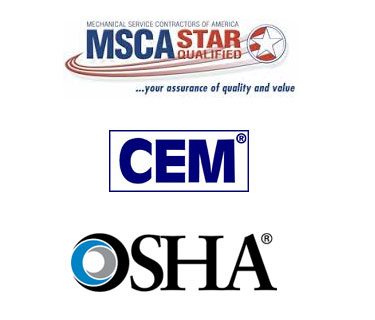 When it comes to providing service to complex building systems, continuous learning is crucial to ensuring the highest quality. Best practices are always changing, and staying aware of those changes is a vital step in making sure customers get reliable value.
At Donnelly Mechanical, we're proud of our professional certifications – they represent a big part of our commitment to remaining the leading commercial HVAC system efficiency experts in New York City. Certifications evidence the knowledge we use to offer exceptional service.
Maybe you're wondering what kind of credentials you should be looking for in a HVAC system expert. Let's take this opportunity to introduce you to some of the gold standard certifications that we've achieved so far:
Mechanical Service Contractors of America (MSCA) STAR Qualified
The MSCA is the leading professional body in the United States focusing on heating, ventilation, air conditioning, and refrigeration services. It helps contractors to innovate and excel in areas including support, safety, and workmanship. The STAR certification demonstrates commitment to these values and outstanding insight in energy efficiency.
Association of Energy Engineers (AEE) Certified Energy Manager (CEM)
More than 17,500 professionals in almost 100 countries have joined the Association of Energy Engineers in support of a sustainable, cost-efficient future for their communities. Innovation in energy performance is central to that mission. Recognized since 1981, the Certified Energy Manager credential is a leading name in efficiency worldwide.
The Occupational Safety & Health Administration (OSHA)
Part of the U.S. Department of Labor, OSHA is the standard-setting body and national center of excellence for all health and safety issues in the workplace. OSHA provides a wide range of credentials touching all aspects of safety, health, efficiency, and worksite administration. At Donnelly Mechanical, we adhere to the highest safety standards in every job we take.
Key Vendor Credentials from Many Major HVAC System Suppliers
When you've seen one HVAC system, you've seen them all? Not quite. On our team, we know there are no "one size fits all" solutions to your complex challenges. That's why we've worked closely with many of the most important vendors in the industry to ensure we're always up to date on systems, technologies, and changing practices. Some brands we've studied extensively include Yasakawa, Mitsubishi, Liebert, Samsung, Schneider Electric, and many more.
Knowledge is a Big Part of the Donnelly Difference
Thanks to our years of experience, we've had the privilege of attracting a team enthusiastic about the highest standards of professional service and conduct. Donnelly Mechanical employs more than 200 experts. Our certifications run the gamut from nationally recognized LEED training to the WBE certifications conferred by the City and State of New York.
For expertise you can trust, contact us today.