HVAC systems for large commercial buildings involve sophisticated engineering. A Class A commercial building likely has multiple HVAC units throughout to either supply a floor or multiple floors with climate control.
If you're looking to move into a new commercial space for your business, the HVAC system is an important consideration. The HVAC units could be older, and on their way out, or perhaps they're newer and simply are not adequate for the needs of your company. When you're taking over a lease, where does the responsibility for HVAC maintenance fall?
Who Is Responsible for The HVAC In A Commercial Lease?
This is an important question for anyone leasing a commercial property. Typically, the tenant is responsible for any supplemental HVAC installed. The most typical configuration is that a building will provide and maintain basic HVAC for the perimeter of the tenant's space, which most likely ends at the demising walls separating your office space from the landlord/common space.
What Is Supplemental HVAC and Why Install It?
IT rooms and data/server closets commonly need additional cooling to offset the heat produced. Furthermore, large conference rooms might not have adequate air circulation or may need additional heating or cooling. If your staff frequently works beyond standard business hours, supplemental HVAC may also be required since the basic HVAC provided by the facility is usually programmed to turn off on weekends and after hours.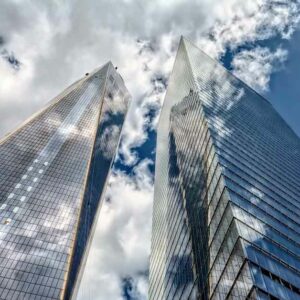 How Does HVAC Work in A High Rise?
When it comes to heating or cooling a commercial building, options can be limited. Depending on the height of the building, heat pumps, and chillers located on the roof may be what's supplying your commercial space with its heating and cooling. If you're leasing out space in a commercial building, you'll be looking at heating and cooling handled in clusters over 10 or more floors. These scenarios see HVAC being served via more of a "central plant" design at a few different locations, depending on the height of the building. This is necessary as air pressure and other environmental factors come into play with tall buildings, thus requiring different levels of exertion from your HVAC systems to create the same level of climate control throughout the building.
Commercial HVAC Systems Covering Multiple Floors
If the building's HVAC systems are servicing multiple floors, there is a good chance you will be sharing the same HVAC with multiple tenants. In either case, you'll still want a qualified HVAC technician to examine the equipment you'll be responsible for to make sure the needs of your commercial space are met and to anticipate future expenses such as maintenance checks, filter replacements, and longevity of the systems you could be responsible for when it's time to replace parts.
Trust Donnelly Mechanical for Your HVAC Inspections
Donnelly Mechanical is New York City's premier provider of HVAC-related service and maintenance trusted by more than 1,700 companies. If you're taking on responsibilities regarding HVAC units in a newly leased commercial space or need to find a new commercial HVAC maintenance and service provider, look no further. We schedule our services around your business to ensure that maintenance and equipment replacement does not impact your day-to-day business operations. Contact us today to let us know how we can help with your HVAC needs so you can focus on your business.