When it comes to optimum performance from HVAC systems, a regular preventative maintenance schedule goes a long way. However, there are some situations where this won't do the trick. Perhaps you're just getting started with structured maintenance and your system needs significant work – or maybe you've got special modernization plans in mind. Maybe you're managing HVAC strategy for an entirely new structure.
Large capital projects require a completely different set of skills: We provide them.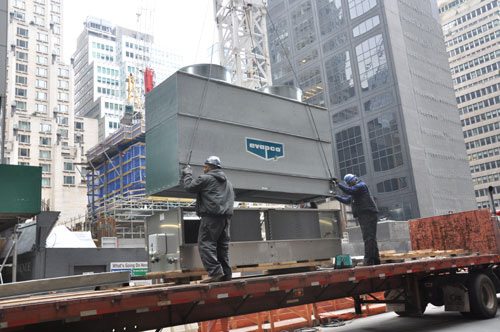 Whatever the case, Donnelly Mechanical's experts have the skills and insight to achieve your goals. We've developed two special teams dedicated to unusual projects so we can minimize the risk and time horizon on your big investments. We can support you every step of the way on the biggest jobs.
Our special divisions include:
Critical Projects Division – True "Value Engineering" for Projects Up to $25,000,000
The Critical Projects Division is our answer to the challenges of major capital projects demanding the latest technologies be integrated at every step. We support our clients through every phase of the process – from design and bidding to award and execution. Our team adheres to the highest standards of project management discipline and uses cutting-edge estimating software to deliver accurate data for every aspect of the job.
When it comes to the most advanced features, Donnelly Mechanical delivers:
Infrastructure, multi-floor fit-out, and unit replacement with bonding up to $60,000,000.

End-to-end pre-design consulting to start your project off on a truly solid foundation.

Full-scale design and schedule analysis – complete with built-in cost savings plans.

The most sophisticated building information modeling you can find in the industry.

Strategic partnerships and joint ventures a specialty; no project is too complex.
Special Projects Division – Efficient, Effective Projects with Built-in Problem Resolution
Is your HVAC system failing to reach the standards you'd expect? Our Special Projects Division focuses on diagnosing the root causes of systemic problems and applying intelligent, long-lasting solutions at minimal cost. We take a top-level view to deliver efficiency and long-term sustainable performance, extending the life of your system.
Our Special Projects Division goes beyond simple replacements. We develop holistic solutions that will ensure new systems effectively meet your needs. Whether you need new equipment or an end-to-end retrofit in your existing facility, we go the extra mile through deep understanding of how your space is used. Our industry-leading engineers are backed by superior project management leadership to reach your goals on time and under budget.
Special Projects services include:
Turn-key equipment installation and replacement.

High-Efficient HVAC system upgrades.

Refrigerant conversions.

Enhancement or replacement of piping, ductwork, and control mechanisms.

Permitting, filing, and resolution of violations within New York City.
To learn more, contact Donnelly Mechanical today by emailing CriticalProjects@Donnellymech.com or SpecialProjects@Donnellymech.com.