As we know, commercial HVAC can be a dangerous profession and that's why we leave it to the trained experts. In fact, HVAC contractors undergo hours and hours of rigorous training to meet the demands of an ever-changing industry. On top of that, they are always putting themselves at risk — whether it's through dust inhalation or dealing with faulty electrical equipment. With an EMR score of .67, we here at Donnelly will discuss HVAC contractor safety, and how contractors can remain safe amidst all the dangers the profession presents.
Getting the Proper Training
In the world of HVAC, HVAC contractor safety is of utmost importance. That is why it is crucial that all HVAC contractors get the necessary training they need before entering the workforce. Most training/apprenticeship programs — like those offered at The Refrigeration Institute or Local 638 — provide extensive technical training in the classroom, as well as practical in-field training. 
Thus, training should be done in the appropriate environment, depending on your needs. It should also be conducted by qualified personnel who will train you on how to safely operate equipment or machinery used at work. Finally, training should be documented so that anyone involved can refer back to it later on as needed.
There's also a reason why HVAC training takes place over a lengthy period of time. For example, the Refrigeration Institute offers a 450-hour program, while Local 638 offers a five-year program. At the end of the day, training never stops and there is always something new to learn in the world of HVAC — so remaining abreast of the latest technology and techniques will undoubtedly ensure HVAC contractor safety.
Utilizing the Appropriate PPE Ensures HVAC Contractor Safety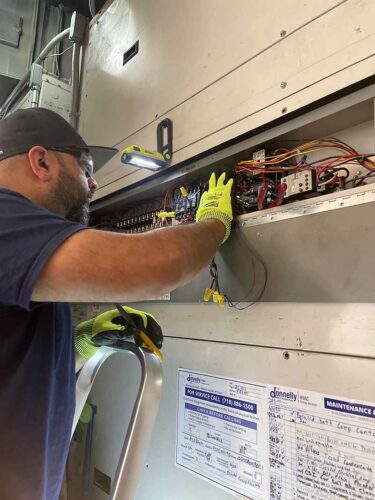 As detailed in our previous blog, utilizing the appropriate Personal Protective Equipment (PPE) is also imperative when it comes to HVAC contractor safety. As the COVID-19 pandemic highlighted, PPE, like masks, can offer valuable protection — though they can easily be mishandled. 
Here's a handy checklist of PPE that you will need for most HVAC jobs:
respirators and/or face masks, which can protect the respiratory system from airborne contaminants or chemicals

eye protection like safety goggles/glasses, which can shield eyes from airborne particles and dust

gloves, which can protect hands from cuts, scrapes and chemical exposure

steel-toed shoes or boots

hearing protection like earmuffs or earplugs

hard hats
Make sure that all of your PPE is intact and all integrity has been preserved. For example, if your respirator is damaged, you can be exposed to harsh airborne contaminants like mold and mildew. If you're exposed to such, you run the risk of potentially contracting Legionnaires' disease — and that's just the tip of the iceberg when it comes to HVAC health hazards. ALWAYS make sure your PPE is intact, and ALWAYS make sure it fits properly and is comfortable to wear throughout the workday!
Surrounding Yourself with Experienced Technicians
One of the more practical applications when it comes to HVAC contractor safety is surrounding yourself with experienced technicians. When it comes to day-to-day operations, experienced technicians can be a valuable resource that can be called upon for advice. They ultimately can be the difference between one bad decision versus one good.
Asking questions and obtaining knowledge from experienced technicians is incredibly important not only for young HVAC technicians, but technicians of any age. Experienced technicians can help you avoid mistakes, solve problems, learn new techniques, avoid injuries — and even avoid lawsuits.
Ensuring HVAC Contractor Safety with Donnelly Mechanical
At Donnelly Mechanical, we ensure our HVAC technicians are trained and ready to go with the appropriate PPE for any job. With an EMR score of .63, clients are met with top-of-the-line HVAC service — and that is due to our emphasis on training and HVAC contractor safety.
If you're looking for professional and high-quality HVAC service, please visit our website and contact us for your HVAC needs today!