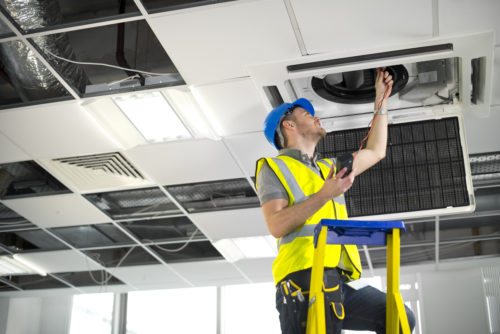 Commercial HVAC Safety is an often overlooked quality in an HVAC contractor, but the truth is that safety in HVAC construction projects can bring a wealth of financial benefits.
Commercial HVAC Safety as Productivity
HVAC safety reduces the length and cost of HVAC projects. When a worker is injured, construction and other work must stop. This increases the length of the project and creates disruption that hurts your bottom line.
Also, commercial HVAC contractors with frequent work-related incidents have insurance premiums through the roof, which means you'll pay more for their services right from the start.
Only a commercial HVAC contractor with a long history of safe operations can provide you with the lowest rates possible.
How Do You Know a Commercial HVAC Provider's Safety Record?
OSHA 10 and OSHA 30 certifications are great indicators of operational safety. A company with a dedicated safety specialist on staff to implement safety programs, compliance plans and monitor progress towards safety goals will also likely be a safe contractor to work with.
There are many things to look for, but an HVAC contractor's Experience Modification Rating (EMR) is one of the best indicators of HVAC safety.
The EMR is an insurance rating that determines how many workers' compensation claims a company submits compared to the industry standard. A company with an EMR below 1.00 is considered safer than the average HVAC company.
EMRs are earned over the course of three years, so they can't easily be manipulated and represent a wide ranging, long-term view of a company's commitment to safety. They are quantitative proof that a company has a low probability of injuries and job disruptions.
You can be sure an HVAC provider with a low EMR will get the job done as quickly, safely and efficiently as possible, creating cost savings and improved productivity while you focus on what's most important to your business.
HVAC Construction, safe or unsafe, affects your bottom line in one way or another. Choosing a safe HVAC contractor can pay off time and time again.
To learn more about cost savings and productivity from HVAC safety, continue reading about Experience Modification Ratings.