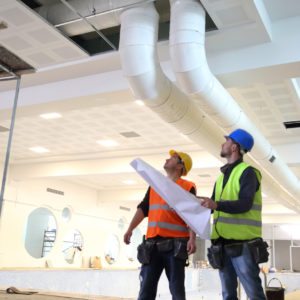 All HVAC systems will need to be replaced at some point, regardless of how well the system is maintained. Replacing HVAC systems and equipment is expensive and time consuming – an undertaking that should not be taken lightly.
When possible, retrofitting commercial HVAC systems and equipment can be a cost-effective alternative to improve commercial HVAC without having to go through the entire replacement process.
Retrofitting HVAC systems and equipment provides several other benefits:
1. Energy Savings
Retrofitting HVAC equipment is one of the quickest ways to solve chronic problems with high energy consumption. On average, small offices and retail establishments reduce energy consumption by 35% when retrofitting HVAC systems and equipment. In cold weather climates, this number can jump to as high as 40%.
2. Increased HVAC Lifespan
Replacing a defective part gives your HVAC equipment new life. In fact, sometimes you can even extend the life of your system by several years, spending far less money than a whole system replacement.
3. Flexibility
Commercial spaces are constantly changing: interiors are rearranged, occupants move in and out, and infrastructure requirements change. Retrofitting HVAC systems allows you to continue adapting to the needs of occupants without huge investments.
4. Improved Comfort
A retrofitted HVAC system will operate with more consistency than an older or poorly maintained system. This consistency leads to more control over temperature in humidity, resulting in improved comfort for occupants.
5. New Technology
Not only do retrofitted systems operate more consistently, they operate more efficiently and independently. This adds to energy savings, as mentioned, but it also decreases to costs of maintenance and service because the new part will be more dependable.
6. Faster ROI
Retrofitting equipment is much cheaper than investing in a whole commercial HVAC system replacement. Given the energy and service savings of retrofitted equipment, return on your investment is achieved much more quickly than a full replacement.
The truth is that all commercial HVAC systems and equipment will need to be replaced at some point. However, putting off that very large investment and retrofitting equipment can bring short-term benefits until you decide on a long-term plan.
To learn more about commercial HVAC services that save you time and money, check out Donnelly Mechanical's High Efficiency HVAC System Design & Upgrades page.