New York City's leading authority in high efficiency HVAC systems and upgrades
Design, Installation, and Maintenance of High-Efficiency Commercial HVAC Systems
With over 30 years of experience working with owners, managers and contractors of large buildings, Donnelly can design, install, and maintain high-efficiency commercial HVAC systems that improve building performance and deliver the highest return on building investment.
Better Performance, Lower Costs
Installing high efficiency HVAC systems in new construction, or retrofitting existing buildings with high-efficiency upgrades, allows you to effectively manage energy consumption, leading to better indoor air quality, lower costs, and a reduced carbon footprint.
Along with regularly scheduled preventative maintenance, your high efficiency HVAC system can actually lower your total energy consumption by up to 50%. This is particularly significant during peak summer months when your new system can save you minimally 15% off of your utility bill, potentially freeing thousands of dollars to allocate elsewhere.
Energy Efficient Incentives
CON EDISON DEMAND MANAGEMENT PROGRAM
Donnelly Mechanical is a Con Edison Demand Management Program Partner. This program offers incentives for upgrading equipment and for performance-based energy-saving solutions. To qualify for incentives and technical assistance supported by the program, projects must meet certain requirements. To learn more about this, please call Donnelly as soon as possible at (718) 886-1500.
TAX REBATES & INCENTIVES
Donnelly's tax experts can help you to determine your eligibility for tax rebates and incentives sponsored by the State and City of New York. When you are ready to get started, Donnelly can also manage the application filing process for you.
ENERGY ASSESSMENT
Donnelly's hands-on energy assessment evaluates all the equipment and components that are part of your building's HVAC system. The survey informs you of the condition and age of your equipment and includes a detailed financial analysis consisting of eligible tax incentives and rebates, project costs, energy savings, maintenance savings, and financing options.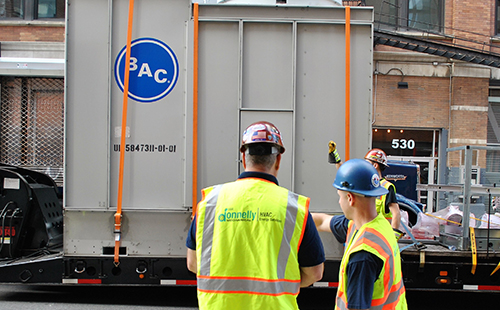 A tripped circuit breaker located in the basement on the building caused our CRAC unit to go into a High-Temperature alarm and go down. Our Donnelly technician and his field supervisor responded right away. They were the absolute best. They were in constant communication with us, keeping us well informed, and were extremely professional as always. They truly represented Donnelly and what they stand for.
-Broadway Video
Need More Information?
Call Donnelly Mechanical at (718) 886-1500 Today.
Providing Innovative HVAC Solutions to Distinguished New York City Clients Since 1989