Providence College defenseman Tom Parisi, who was named Defensive Player of the Year for the 2014-2015 champion Friars after ending the season with a defense-leading 19 points, will soon be joining a new team: The National Hockey League's Montreal Canadiens.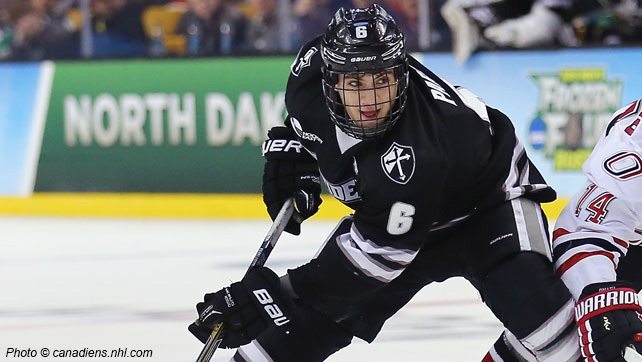 Parisi is a former intern with Donnelly Mechanical. Back in the summer of March, 2012, Tom worked at Donnelly with his uncle Mike Parisi in the Construction Department.
"He's a terrific young man," said Dan Donnelly, CEO. "We're really proud of his accomplishment and wish him great success."
22-year old Parisi concluded his college career on March 25th when the Friars narrowly lost to the University of Minnesota-Duluth. It was a blow for the defending champions, but a worthy close to a 144-game career for Parisi, whose final tally was 12 goals and 55 points.
Parisi brings plenty of potential to the Canadiens and has already shown how his grit, skating speed and superior decision-making can make his team more competitive: Last year, he scored a winning goal against an aggressive Denver and the game-tying goal in the championship.
Parisi's two-year, two-way contract comes hot on the heels of his time at the Canadiens' development camp last July. When not leading his team in ice time, the Friars co-captain also served as an intern for New York City HVAC system consultancy Donnelly Mechanical.
Parisi will likely finish out the season at Montreal's St. John's-based AHL affiliate. He is expected to serve as a top four defender and may be playing at the NHL level as soon as mid-2017.