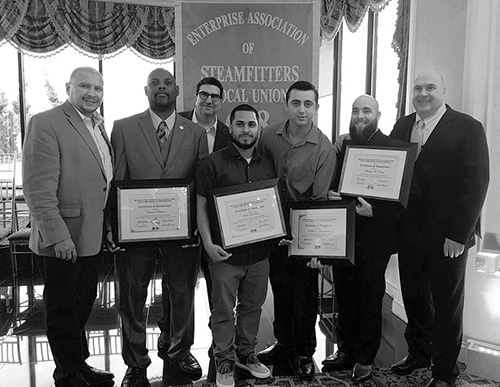 Donnelly Mechanical is proud to acknowledge Kevin Torres (Technician), Andrew Novak (Technician), and Kawan Perkins (Purchasing Agent) and Robert Lagomarsine (Technician) for their successful completion of the demanding three-year HVAC/R Service Technicians Training Program through the Service Fitters Training Center (SFTC). The four were recently awarded their certificates at the Enterprise Association of Steamfitters, Local Union 638, Service Fitters' Industry Educational Fund Graduation Ceremony at Terrace on the Park, Flushing Meadow Park, NY on May 10, 2018.
"We're very proud of our graduates," says John Fallon, VP Service & Maintenance. "Aligning with Donnelly core values, the SFTC program offers intensive technical training while striving to develop knowledgeable and loyal service technicians who are conscientious, career-minded and devoted to the highest level of quality service and total customer satisfaction. Successful completion of the program gives our graduates the training they need to deliver the best in service – what we refer to as The Donnelly Difference."
By providing the right combination of skills, innovative experienced-based training, communications, supervision and state-of-the-art technical support, the SFTC HVAC/R Service Technicians Training Program refines and expands the service technician's technical capability to diagnose, repair, retrofit, install and service equipment and systems.