Reducing environmental impact is a key concern of facilities managers throughout New York City. The most recent generation of equipment offers greater energy savings than ever before, but there are still many opportunities to be leveraged. The Copeland Digital Scroll Upgrade Kit represents a fast, easy and efficient way to improve HVAC compressor performance.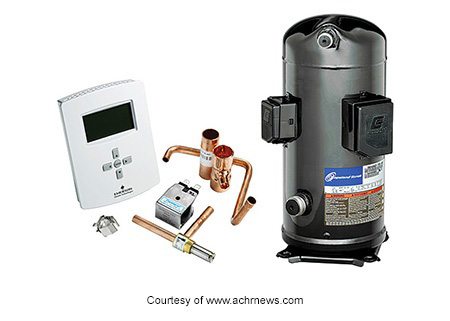 It is well known to facilities managers that the compressor is the single most energy-consuming component in an HVAC system. Through efficient digital modulation, the Copeland Scroll Digital Upgrade Kit provides exceptional energy savings while also providing precision environmental control. Previous methods of capacity control, for example hot-gas bypass, are simply not as efficient or effective. Even an efficient, high-performing HVAC system can benefit from this new technology.
A Total Compressor Retrofit is Now Just a Few Minutes Away
The Upgrade Kit provides everything required for a complete in-field retrofit of your compressor to take advantage of the latest in compressor technology.
Included with the upgrade kit is a wall mounted Emerson Commercial Comfort Controller, giving you the ability to achieve better control benefits from the moment your retrofitted compressor enters service – improving comfort, reducing energy use, and shrinking your carbon footprint.
The Emerson Commercial Comfort Controller is the crown jewel of the system – it provides a simple, programmable, wall-mounted solution. This controller technology is ideal for both large and small commercial spaces thanks to its advanced capacity control, automated adjustment, and precision modulation. You can adjust and maintain your system to within half a degree Fahrenheit at any time with compressor modulation of between 10% to 100%.
The Copeland Scroll Digital Upgrade Kit is an Exciting Step in Comfort and Efficiency
Compatible with virtually all modern systems Copeland Scroll Digital compressor technology is the solution many commercial facilities managers have been waiting for. Thanks to its precision, convenience, and proven results, the team at Donnelly Mechanical enthusiastically endorses it as part of your increased performance and energy reduction plan.