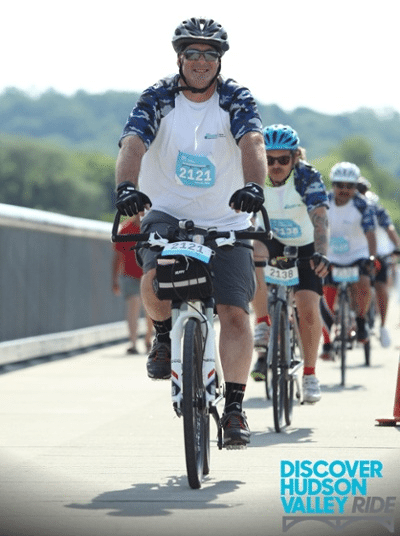 The Donnelly Mechanical Bicycle Team is always pushing themselves to complete their next big ride and on June 25th, they did just that! Completing the Discover Hudson Valley 55 Mile Bike Tour, the bike team rode triumphantly through the lengthy trek.
The bike tour is centered around the world's longest footbridge, Walkway Over the Hudson, and focuses on discovery. The Donnelly Mechanical Bicycle Team's 55 mile journey brought them through the wondrous scenery of Ulster and Dutchess counties and enabled them to discover just how much they can accomplish when they set their minds to it.
Using their immense focus and determination, traits exhibited by Donnelly team members Ashley, Junior, Stan, Tom, Lester, Matt and John, the team was able to complete this difficult tour. Biking 55 miles is no easy feat and the team's commitment left them soaring through the tour with smiles on their faces. Not ones to rest easy, the Donnelly Mechanical Bicycle Team is already looking forward to taking on the Tour de France!
All proceeds from the bike tour fund Bike New York's free bike education programs, a program that teaches bike riding and bike safety skills to thousands of kids and adults throughout New York City. Donnelly Mechanical is proud to support a program that promotes both the health and safety of our local New Yorkers.
Congratulations to the Donnelly Mechanical Bicycle Team from everyone at Donnelly Mechanical!