If you've worked with the Donnelly Mechanical team, you might have met our former intern, Tom Parisi. Tom is a hard worker who brings his all to everything he does – traits we're confident will serve him well after the huge career news he just got. Yes, our very own Tom Parisi will be playing with the National Hockey League as part of the Montreal Canadiens!
Bright Ambitions, Hard Work, and Team Spirit – Tom's Journey
As a senior defenseman with the Providence College Friars, Tom is well-known for his great hockey sense, excellent control on the ice, and ability to make decisions under pressure. Sure, he never had to strap on skates while working with our team, but everyone appreciates how he brought commitment and focus to his work even as he pursued his athletic career.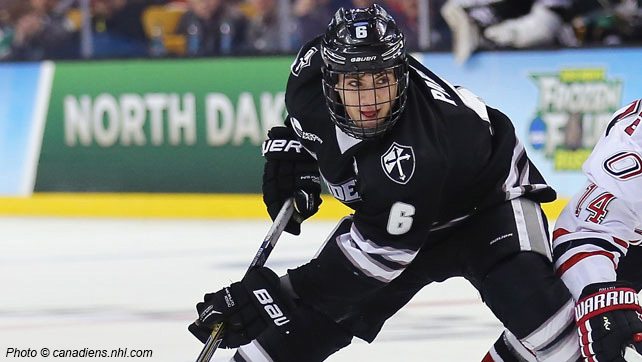 Tom has been a key player within the Friars practically since the day he started four years ago. Although the defending champs were shut out of the opening round of the NCAA tournament this year, Tom made strong contributions. He led the Friars defensemen with 19 points in the championship-winning 2014-2015 season and logged a +12 record for 2015-2016.
Providence might not be making its way to the championships this year, but Tom and his teammates re-energized the Friars. At the 2014-2015 season-ending banquet, he was named Best Defensive Player, but it was only a taste of things to come.
Canadiens Pick Up Parisi as a Free Agent

At only 22, Tom already has experience with the Canadiens – he attended their development camp in summer 2015. Now, it's time for Tom to take the next step: His two-year, two-way contract is a stellar start to his professional time on the ice.
Congratulations and best of luck to Tom from everyone at Donnelly Mechanical!