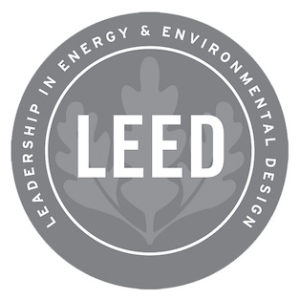 Developers and landlords have sought green certification for decades to help create buildings that are more sustainable, more efficient and more cost effective to maintain in the long run. With the increased focus on the environment, various third-party verification programs have been developed. One of the best-known certification programs is the Leadership in Energy and Environmental Design (LEED). Run by the United States Green Building Council, it has been rating the sustainability of buildings since the 1990s.
What Does LEED Certification Mean?
LEED certifications are the most widely used rating systems for green buildings in the world. The LEED program helps building owners and operators to be environmentally responsible by providing a rating system for building design, construction, operation, and maintenance.
Developed by USGBC in 1993, LEED began as a project of the Natural Resources Defense Council. NRDC senior scientist Robert K. Watson founded the LEED Steering Committee, which brought together architects, engineers, builders, developers, non-profit organizations, government agencies, product manufacturers, and industry leaders to first create a standard for new construction. Later it was expanded to become a comprehensive system of interrelated standards for upgrading, maintaining and operating buildings.
What Are the Different LEED Rating Systems?
LEED has four official categories for its rating systems:
A fifth rating system, LEED for Cities/Communities, is a pilot project to address environmental performance and efficiency in cities and communities. It's further divided into systems for new cities and communities and one for existing cities and communities.
How Are the LEED Rating Systems Structured?
Each rating system contains both prerequisites and credits, with the former being required elements for LEED certification. Credits are optional items that provide additional points toward a LEED certification tier.
While each rating system will vary according to its role, each one tends to address these concepts in some form:
Sustainability
Integrative process
Water
Energy
Location and transportation
Materials and resources
Indoor environmental quality
What Are the 4 Levels of LEED Certification?
LEED certifications vary by the number of points they earned to signify their degree of compliance with green building strategies. The four tiers or levels of LEED certification are:
Certified – 40-49 points
Silver – 50-59
Gold – 60-79
Platinum – 80+ points
How Do You Become LEED Certified?
That depends upon what you're seeking. Buildings can become LEED certified, but people often mistakenly use the same phrase to refer to people. A person can become LEED Accredited, not LEED certified. If you're a professional who wants to demonstrate expertise in LEED practices you can become a LEED Green Associate or LEED advanced professional with a specialty.
If you're seeking LEED certification for a building, first determine what type of project it is. Then look up the potential credits the project can earn by reviewing the LEED Credit Library. Consult with a LEED certified professional to plan any changes or upgrades required for certification. When any changes are complete, apply for LEED certification, which is a process that can take several months.
How Much Does It Cost to Get LEED Certified?
That will partially depend upon the nature and scope of any changes you need to make to comply with the standards for LEED certification. The actual fees for registering and being certified for LEED varies by the type of project, where it's located, etc. USGBC members also get a discount if they're the owner or project administrator.
Are There Other Building Certification Standards?
Building certifications don't end with LEED. Due to the amount of time spent indoors, especially with people working 40-50+ hours a week, other criteria have emerged for certification.
The WELL certification is administered by the International WELL Building Institute (IWBI) and is based on research from the American Medical Association (AMA), the Cleveland Institute, and the Green Building Council. The goal is to create buildings that support good health and wellness. It allows space planners and architects to implement interior spaces that support good health.
Similarly, the Fitwel building certification is for workplaces to support healthier, more productive environments. It examines how work spaces can be improved to create a healthier interior, improve employee performance and retention, as well as recruitment. While originally developed by the Centers for Disease Control (DCD) and General Services Administration (GSA), Fitwel is now administered by the Center for Active Design (CfAD).
Is LEED Certification Available Everywhere?
The LEED certification standard is used around the world. LEED is recognized as the most widely used rating system in the world for green, interior renovations, maintenance, and operations.
Despite the fact that many government agencies in the United States, both federal as well as on the state and local level, either reward or require LEED certification, it's not universally adopted within the U.S. Instead, Alabama, Georgia, Maine, and Mississippi have essentially banned LEED certifications in new public buildings. Those states require other standards that the USGBC deems as too lax.
For more information on LEED certifications, see the Core Concepts Guide by the U.S. Green Building Council.
Need Help? Give Us A Call Today!
Donnelly Mechanical is New York City's top commercial HVAC service company. Contact us today to learn more about energy efficient HVAC.