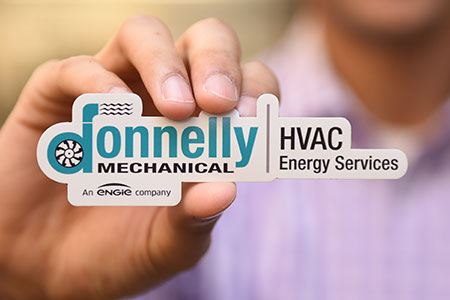 Donnelly Mechanical is Now an ENGIE Company
ENGIE Acquisition Gives Donnelly Deeper Bench to Offer Clients More
Donnelly Mechanical is proud to be an ENGIE company. We are now part of the global community of the number one energy services provider in the world. The acquisition, which took place in August 2018, reflects Donnelly's shared methodologies with ENGIE, where the foundation of delivering high-quality service is based on building personal relationships. With the support of ENGIE's premier energy services and technical capabilities, Donnelly Mechanical has greater resources, allowing us to go deeper and broader into the energy needs of our valued clients.
The vast synergies between ENGIE's investment in the latest clean technology and Donnelly's on-going commitment to WELL Building and energy services, advances the mission to provide clean, reliable energy solutions that help customers save money and make the world a better place for all.
More for Our Clients
As part of the ENGIE global network of leading energy service providers, Donnelly has more resources to offer clients enhanced services leveraging next generation technologies. Additionally, Donnelly is able to provide increased support for project funding, design, building, and maintenance. With greater financial stability and access to a wealth of sustainable, lifecycle building services and integrated facility programs, our expertise across the entire project lifecycle has expanded to deliver more value to our clients.
New services, such as on-bill financing and a dedicated operations control center, build upon Donnelly's existing investment in large-scale, sustainable and renewable mechanical and construction services to provide:
Talk With Us
Call Donnelly Mechanical at (718) 886-1500 today.
Learn more about the Donnelly Difference and how our backing of ENGIE can benefit you!
On-bill financing
Continuous monitoring and management
Energy audits
Energy calculations
Equipment controls
Chiller & boiler plant upgrades
Design-assist
Energy engineering
Laser scanning
Application engineering
BIM/REVIT
Building and energy modeling
Design-build
Electrical construction
Data construction
IT services
Electrical maintenance services
Critical systems maintenance
Now an ENGIE company, Donnelly Mechanical continues to provide the same personalized service that's been the hallmark of our success over the past 30+ years. With the additional resources that ENGIE provides, our dedicated team of technicians and consultants is committed to building on those personal relationships by delivering even more to our clients.
Need more information? Call Donnelly Mechanical at (718) 886-1500 today.
Celebrating over 30 years of outstanding service.