NYC's Leading Expert in Commercial HVAC Refrigerant Conversions and Replacements
Donnelly Mechanical offers consulting, surveys, and audits for commercial HVAC system refrigerant conversion and leak detection.
Our CFC/EPA certified engineers can analyze your commercial HVAC system and provide you with a Cost Analysis, so you know exactly what you are spending money on and how you can save on costs. For systems utilizing Freon-based refrigerants, or R-22, Donnelly can help you achieve the best solution that puts you in compliance with the EPA phase-out requirements.
R-22 Refrigerant Phase-out
In an effort to protect and improve the nation's air quality and the stratospheric ozone layer, the EPA enacted Title VI of the Clean Air Act, which stipulates that HCFCs (hydrochlorofluorocarbons), including R-22, are to be phased-out of use, including production and importation.
On October 17, 2014, the EPA released its Final HCFC Allocation Rule governing allowable levels of virgin HCFC-22 for domestic consumption for the remaining five years (2015 – 2019) of the planned phase-out. R-22 allowance levels decrease significantly during the remainder of this phase-out, including a 57% reduction from 2014 to 2015. Furthermore, this reduction has dramatically raised the costs of the ever-shrinking R-22 supply; in fact, the price of R-22 in the US market has increased by more than 500% since 2003. This trend is expected to continue as demand for limited supply increases over time.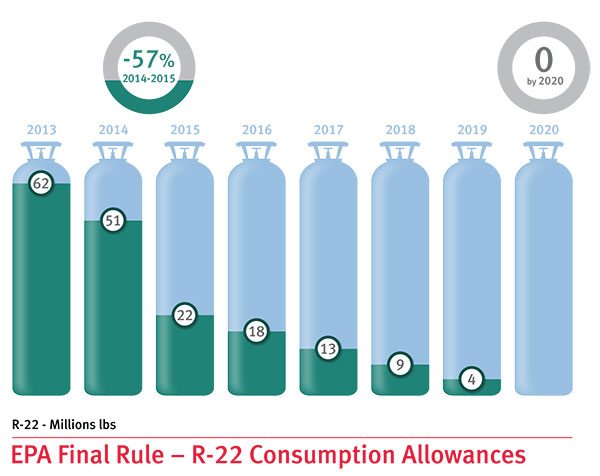 What This Means to You
If your building's HVAC equipment uses R-22 refrigerant, then you need to start planning now to reduce your dependence on R-22 and its service blends, such as 401A, 401B, 402A, 402B, 408A and 409A. Your plan should include R-22 reclamation and retrofits to HFC alternatives.
Donnelly Will Work with You to Ensure Your HVAC Systems Are in Regulatory Compliance at Each Stage of the Refrigerant Conversion/Phase-Out By:
Identifying systems that use R-22, noting age and rating their condition.
Analyzing your annual R-22 usage and maintenance costs.
Recommending how to best minimize your R-22 needs and flagging equipment that should be replaced.

Depending on your objectives and the condition of your system, retrofits and replacement refrigerants may be a viable option.
What You Can Do Now
If you're located in New York City, let Donnelly Mechanical take a look at your commercial HVAC system now. You'll learn the best way to be in regulatory compliance while increasing the return on your building investment.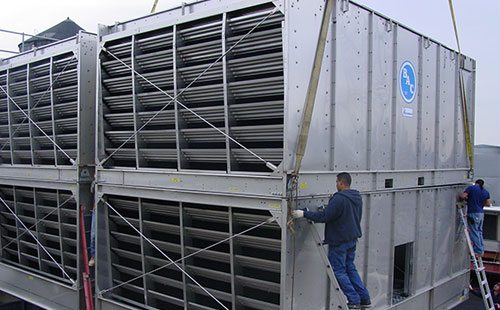 I reached out to the Donnelly emergency line and within minutes of placing my call, a service dispatcher reached out to me. Throughout this nearly 5-hour ordeal, Donnelly remained professional and extremely responsive as we assessed our service needs throughout our NYC locations. Just before midnight, I was given the all clear that cooling was working, and everything was up and running. I couldn't have asked for better communication!
-NYC – FCB, Manager, Facilities & Services
Need more information?
Call Donnelly Mechanical at (718) 886-1500 today.
Providing Innovative HVAC solutions to Distinguished New York City Clients Since 1989