Innovative Commercial HVAC Turn-Key Equipment Solutions
Providing innovative commercial HVAC equipment replacement, HVAC repair, HVAC system installation services and solutions to financial, commercial and institutional clients throughout NYC
Donnelly Mechanical understands how critical timely commercial HVAC equipment replacement and HVAC system installation is to your business. Our in-house mechanical design Engineers work with building owners, operations managers, and contractors to create customized turn-key solutions designed to meet your building needs and objectives.
From initial survey to project completion, you can rely on the technical expertise of Donnelly's staffed team of certified technicians and project management specialists to protect mission critical systems, improve efficiencies, reduce costs, and maintain tenant safety and comfort.
COST-SAVING ANALYSIS
Donnelly's hands-on equipment survey and assessment evaluates all the equipment and components that are part of your HVAC system.
The survey informs you of the condition and age of your HVAC equipment and includes a detailed financial analysis consisting of costs associated with operation and service, eligible tax incentives and rebates, project costs, energy savings, maintenance savings, and financing options.

**This survey can be performed annually as a component your maintenance agreement.
REPAIR OR REPLACE
Age, energy inefficiency, and excessive erosion are factors that can affect the reliability of your HVAC system. Recommendations to repair or replace equipment are based on the equipment survey and considerations that affect health, safety, and cost of ownership.
QUALITY & SPEED
Donnelly files all permits in-house, which speeds the process for installation from months to weeks. Equipment replacements can typically be completed within 3 days.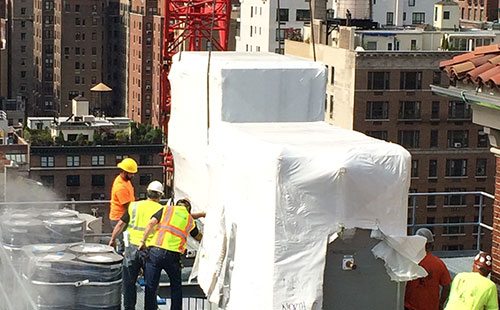 When I call Donnelly, they're here within the hour. Before, I had to wait 5 to 6 hours and it took 3 visits before they were able to fix the problem. Donnelly does it in one.
-JWT, 466 Lexington, Manhattan
Need More Information?
Call Donnelly Mechanical at (718) 886-1500 Today.
Providing Innovative HVAC Solutions to Distinguished New York City Clients Since 1989