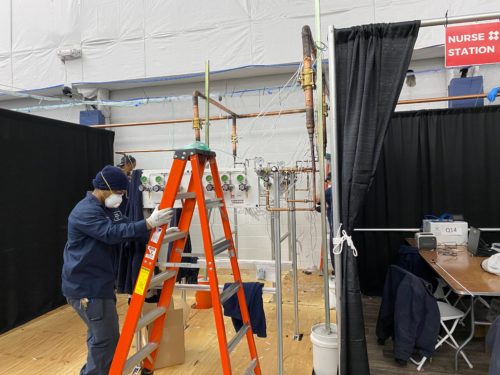 Donnelly Mechanical is proud to support New York City in this time of need. During the height of the COVID-19 crisis, Donnelly Mechanical was an integral part of converting two facilities within Queens and Brooklyn into temporary field hospitals. These hospitals were staffed with doctors and nurses from around the country who have traveled to New York to help treat COVID-19 patients and to relieve the burden from the nearby, overtaxed hospitals.
Donnelly Mechanical was contracted by SLS Construction to install oxygen lines at the Billie Jean King National Tennis Center in Queens. Based in Galveston, Texas, SLS Construction provides general contracting and construction management services with a specialty in aiding disaster relief efforts. Within just a few days, the combined effort between SLS and Donnelly converted a dozen indoor tennis courts into a temporary overflow hospital with 450 additional beds.
Once the hospital was up and running, Donnelly returned to the site to assist with additional work. Fully functional ventilators require high-pressure oxygen that meets precise specifications. Four members of Donnelly's service team ran high pressure oxygen tubes to the ventilator location in Ward 1, where many COVID-19 patients were being treated. Our team took every possible safety precaution including the use of proper PPE and HAZMAT suits.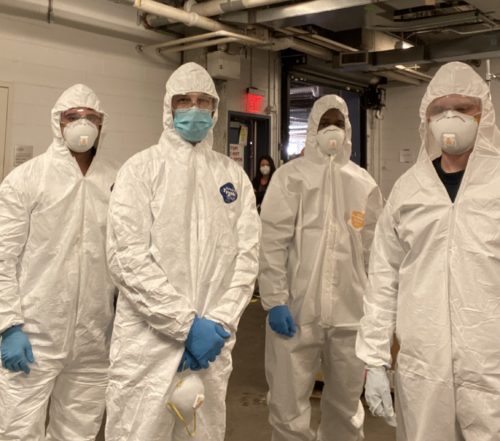 "We are proud to be part of this project to expand New York City's health care capacity," said John Fallon, President of Donnelly. "Our teams have been working hard to support our customers and communities during this challenging time."
In addition to the facility at the Billie Jean King National Tennis Center, Donnelly Mechanical also installed oxygen lines at the 750-bed facility at the Brooklyn Cruise Terminal.
As one of the safest and most reliable mechanical contractors in NYC, Donnelly Mechanical is proud to serve our incredible healthcare community.