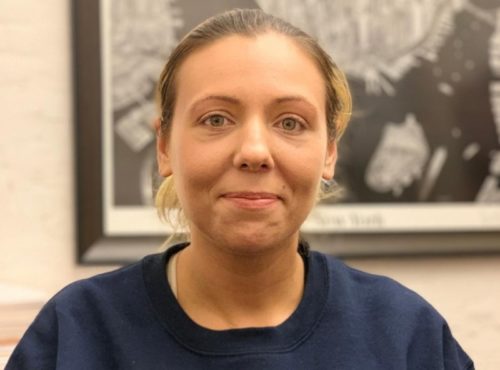 Donnelly Mechanical is pleased to announce that Brittany Lara has joined the team as a field service helper. In her new role, Brittany will be assisting the field technicians with all HVAC service repairs, installs and equipment maintenance. Aside from working full time with Donnelly, she will also be attending school to further her training in refrigeration and air conditioning. Donnelly's extensive training and mentoring program offers field helpers exciting career advancement and growth opportunities.
"I look forward to working with the Donnelly team to gain valuable experience in the field," said Brittany. "I am excited and honored to be the first female field employee of the company. It gives me even more motivation to succeed."
Prior to Donnelly Mechanical, Brittany worked at Petroleum Tank Cleaners as an assistant estimator where she cleaned, removed and installed oil tanks. She also assisted with plumbing, tank testing and proposal creation. Before Petroleum Tank Cleaners, she worked as a helper at Fahrenheit Mechanical where she placed material orders for all HVAC construction and service jobs. While there, Brittany also assisted service fitters with compressor changes, motor replacements and other related tasks. At Donnelly Mechanical, Brittany works within the Downtown Zone.
"Having Brittany as our first female field employee is a major milestone for Donnelly Mechanical," said John Fallon, Executive Vice President of Service. "Her previous experience and skills make her the perfect person for the job. I am certain that she will do great work for the company and we are honored to have her as part of the team."
About Donnelly Mechanical Corporation
Donnelly Mechanical, an ENGIE company, is New York City's premier provider of innovative commercial HVAC service, maintenance and construction. With over 30 years' experience and 200+ employees, we serve New York City's most prominent commercial organizations across a variety of sectors including data centers, healthcare facilities, Class-A office spaces and commercial real estate management firms.