Financing for Commercial HVAC Improvements & Upgrades
Improve Your Bottom Line and Exceed Your Sustainability Goals While Offsetting Capital Investment
Donnelly Mechanical's financial stability enables us to offer our clients a broader level of financing opportunities.
EnGage is an integrated solution combining Donnelly's technical, financial, and operating expertise to respond to the needs of facility improvements without draining your capital budgets.
EnGage allows our clients to invest in high-efficiency commercial HVAC equipment without major upfront costs. Affording companies a path to immediate cost savings through energy efficiency, as well as decreased downtime with more reliable HVAC equipment.
What we do
Donnelly will install, finance and maintain your high efficiency HVAC equipment under 1 service contract and 1 fixed fee.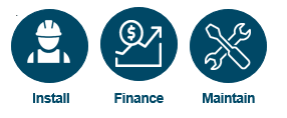 What you get
Avoided Capital Outlay: ENGIE takes on up to 100% CAPEX
Adaptable contract term of 36 to 84 Months with competitive APRs
Cost Savings from Day One
Technical Expertise
Reliability with high-quality systems
Increased systems efficiency
Improved occupants' comfort and experience
Continuous improvement plan
Progress towards your sustainability goals
Need More Information?
Call Donnelly Mechanical at (718) 886-1500 today.
Celebrating Over 30 years of Outstanding Service.