Expert Healthcare Facility & Hospital HVAC Repair & Emergency Service for Indoor Air Quality & Infectious Disease Management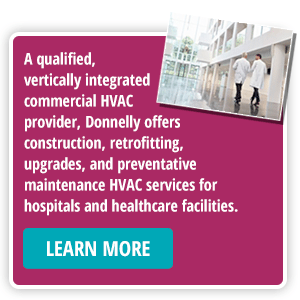 NYC Hospitals & Healthcare Facilities Rely On Donnelly Mechanical's Specialized Expertise and Fast Response For HVAC Emergency & Preventative Maintenance Service
Servicing healthcare facility and hospital HVAC systems requires experience and specialized expertise because it is about much more than comfort: people's lives are affected. Donnelly Mechanical has been helping New York City hospitals and healthcare facilities effectively manage air quality and minimize costly and risky HVAC system downtime with custom preventative maintenance and emergency repair service. When you have an emergency situation, Donnelly has systems in place to deliver the fastest response time throughout New York City, providing seasoned, experienced technicians with the expertise to remedy the problem.
Donnelly Mechanical delivers more than 30 years of healthcare facility and hospital HVAC system expertise to provide engineering supervisors and facilities managers with the specialized service support they require.
24 HR Emergency Service
Fast Response
Dedicated Maintenance Team
Service Tracking & Reporting
Certified Indoor Air Quality Specialists
Customized Preventative Maintenance
Certified LEED and Energy Specialists
Need more information? Call Donnelly Mechanical at (718) 886-1500 today.
Fast response and a worry-free resolution – that's The Donnelly Difference.